Genealogists Week In Dalarna 2017
Common portal for genealogists week in Dalarna, Sweden, 2017
Do you have ancestors from Dalarna Sweden?
Family Research in Dalarna in the summer!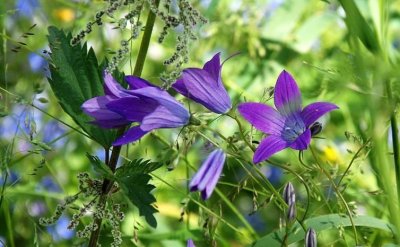 Genealogy Week 3 -  9

July

, 2017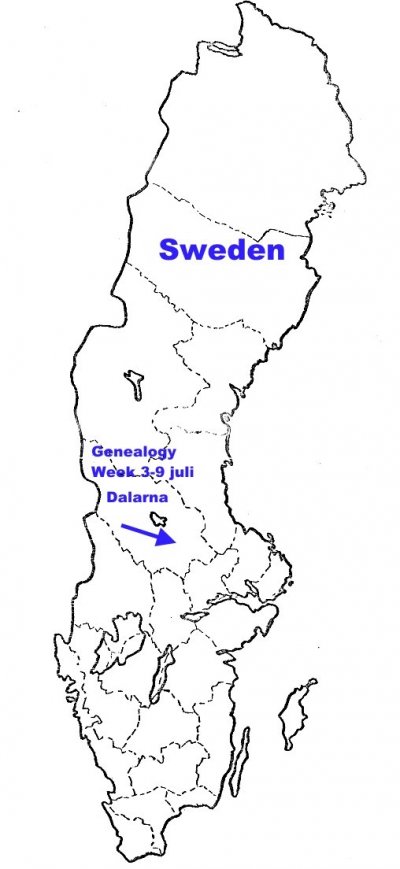 Idea and goal!
Genealogy Week is an attempt to offer a palette of different activities for both the experienced genealogist who beginner in high summer. A time of year when many people want to visit places and locations where you have ancestry, but then usually genealogical union activity is down. Many want the help of local skilled genealogists during the week via their associations can provide interesting information about people, villages, archives and demonstrate the different aids, etc.
 The week will be scheduled activities and free activities as well as tips and guidance on different destinations.
• You add up your week for what you think is interesting, there are great opportunities to visit other attractions and sites linked to your ancestors and areas of interest.
• You book your own accommodation at the appropriate location / locations. Special assistance will be available through Visit Dalarna. There are also all the activities and attractions that are current.
Detailed program will for each day during May 2017
Day 1 Monday, July 3 Borlange Day
Day 2 Tuesday, July 4 Ludvika Day
Day 3 Wednesday, July 5 Rattvik / Leksand Day.
Day 4 Thursday, July 6 Gagnef Day
Day 5 Friday, July 7 Falu Day
Day 6 Saturday, July 8  Mora Day.
Then choose if you want to stop and choose any local activity offered that day.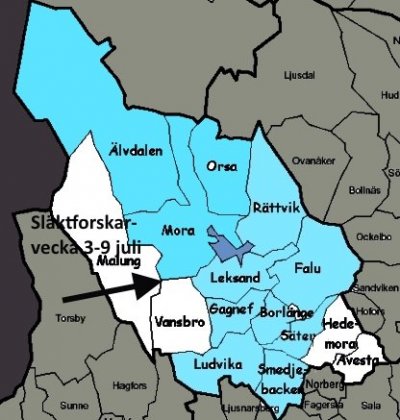 Short distances between towns

Distance Table from Falun:

Borlange 21 km about 20 min

Ludvika 63 km around 50 min

Rattvik 50 km 45 min

Gagnef 40 km about 40 min
Mora 90 km about 90 min.

 

More information to come !
Organisers:
Föreningen Släkt o Bygd i Borlänge
(Stora Tuna, Borlänge, Amsberg, Gustafs, Silvberg, Torsång.)
Västerbergslagens Släktforskare
(Malingsbo, Söderbärke, Norrbärke, Ludvika, Grangärde, Grängesberg, Säfsnäs)
Föreningen Dalfolk
(Rättvik, Leksand)
Gagnef Släktforskarförening
(Gagnef, Mockfjärd, Dalafloda)
Falubygdens Släktforskarförening
(Aspeboda, Grycksbo, Bjursås, Enviken, Sundborn, Hosjö, Svartnäs, Vika, Svärdsjö, Stora Kopparberg, Kristine)
Ovansiljans Släktforskare
(Mora, Orsa, Ore, Venjan, Sollerön, Våmhus, Skattungbyn)